JP-Australia Windsurf board Magic Ride LXT 2023
MAGIC MANOEUVRE FREERIDE
Sizes: 

99 / 109 / 119 / 129 / 139 / 149 / 159

Discipline: 

Freeride
Stunning boards which do everything you'd expect from a freeride board – and they do it exceptionally well and exceptionally easily! Feeling playful and small, they sit high on the water, delivering the lively and sporty feel which makes windsurfing so exciting. They are fast, yet super easy to sail and control. These wide and thin boards willingly plane early. Their gybing potential impresses riders of all levels!
Since its inception, this line has been a magic blend of everything an advanced rider wants from their funboard. While the originals focussed on ease, the second generation turned out more agile and lively. The shapes of this 3rd generation feature significantly improved control at speed and through chop, resulting in a sporty and energetic character which is incredibly easy to handle.
Consequently, these boards ride smooth and fast. They gybe willingly and carve into and through turns with ease. They surprise being JP's most playful and manoeuvre oriented freeride boards. The magic of these boards pushes the performance and fun factor to the next level.
The Magic Ride is the undisputed 'Master of the Turn' in the freeride class: In gybes it feels effortless and refined even in challenging sea states. Still featuring its respected autopilot qualities, the MR requires little input from the rider and its forgivingness will pamper the intermediate rider and increase their success rate in gybes. It's never been easier to enter the turn even at lower speeds and exit still on the plane – and planing through gybes is everybody's desire!
At the same time its rail bite and its reliability when carving steady arcs will encourage the more advanced rider to push harder and corner with full dedication: Tighter and tighter turns, classic freestyle like duck gybes and carving 360s will be the name of the game. The Magic Ride can be quoted a bigger Freestyle Wave and is the most playful and manoeuvrable of JP's freeride boards.
The true freerider: What is astonishing about this board line is its ease and smoothness. You'll step on it and everything will happen naturally and predictably. The feel is "familiar" – like putting on an old pair of shoes: It just fits! Relaxed and confident you'll achieve more speed than on previous generations of freeride boards. Despite these easy-riding characteristics, performance and agility are not compromised at all. British WINDSURF once stated that the biggest surprise was its speed and that its performance is comfortable if not exceptional. The hull feels quick, lively and responsive. Planing readily, it provides traction which inspires you to push your fun and adrenaline and to let the board fly on its fin – in control!
Magic Ride 159: Longer than the other sizes, it is stable and accessible and thus the perfect board for anyone stepping down from a beginner board with daggerboard. It is specially tuned for easy, early planing! Experiencing the planing sensation and getting hooked on the feeling happens naturally.
Shape Details:
You will be stunned by the light and easy handling when blasting along.
Still based on a thin and wide platform with adjusted proportions.
Slightly narrower at the centre and longer -> the stretched-out waterline makes early planing easier and lifts the board effortlessly onto the plane. It provides directional stability at speed and more upwind power.
Even volume distribution keeps the centre of gravity close to the mast base
Wide nose makes it a stable platform when non-planing
Wide tail outline -> offers great release, reduces drag and improves high wind control.
Smooth deck shape guarantees a comfortable stance in every foot strap option and makes getting in and out of the straps easy.
Increased V-flow underneath for a comfortable ride, effortless gybing and an exciting, lively feel.
Good leverage to load up the fin.
NOTE: The ES boards come with the standard Powerbox and only the LXT models feature JP's specially reinforced Foil-Powerbox.
An epitome of freeriding: A state of the art synergy between easy handling and performance. This manoeuvre-oriented freeride board shines with fascinating manoeuvrability and easy carving gybes. The ease, smoothness, forgivingness and control enable incredible performance levels and improve everyone's riding fun. If it's about freeriding, then here is the MAGIC!
Key features
The most manoeuvrable board in JP's freeride range.
Easiest planing and gybing
Bottom V for great control and comfort
Adjusted shape gives a sporty and energetic character
Foil Approved Fin Box (LXT only); With NP Glide Wind foil, one of the easiest set-ups to start foiling
Magic Ride 159: The perfect board for every rider stepping down from a beginner board with daggerboard
Features
---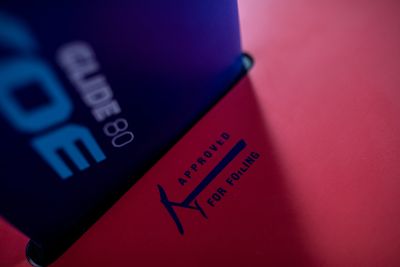 APPROVED FOR FOILING
Reinforced, stronger box construction for Foil-Powerbox. Now, the Freestyle PRO, Freestyle Wave PRO and Magic Ride LXT also feature JP's reinforced Foil-Powerbox! The fin screw diameter is 6 mm. Drill the Powerbox hole to 8mm so that it fits NP's Powerbox Foil screw.
---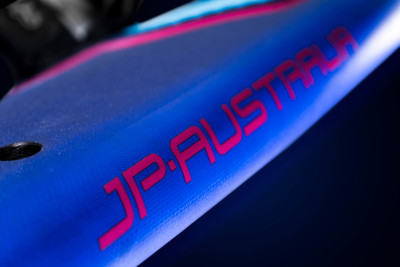 PARABOLIC RAIL REINFORCEMENT
For high durability: The parabolic rail reinforcements work like a stringer along the rail and are resistant to impact and paint chipping and increase the stiffness.
---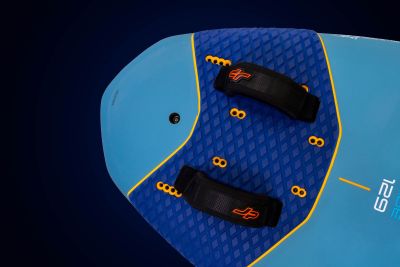 MULTIPLE FOOTSTRAP POSITIONS
Thanks to various footstrap options you can perfectly trim the board according to your needs, e.g.: inboard plugs for easy cruising and/or plugs further out on the rail for a sportier, free ride and/or centred plugs for beginners.
---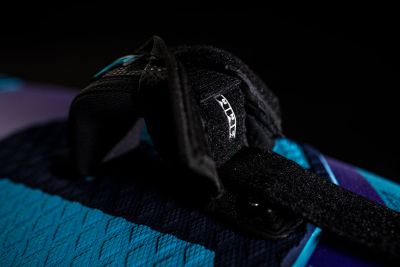 FOOTSTRAP SCALE
Your friends and family constantly take your board and change the size of your footstraps? No problem anymore! JP's Footstrap scale allows easy adjustment to the foot size.
---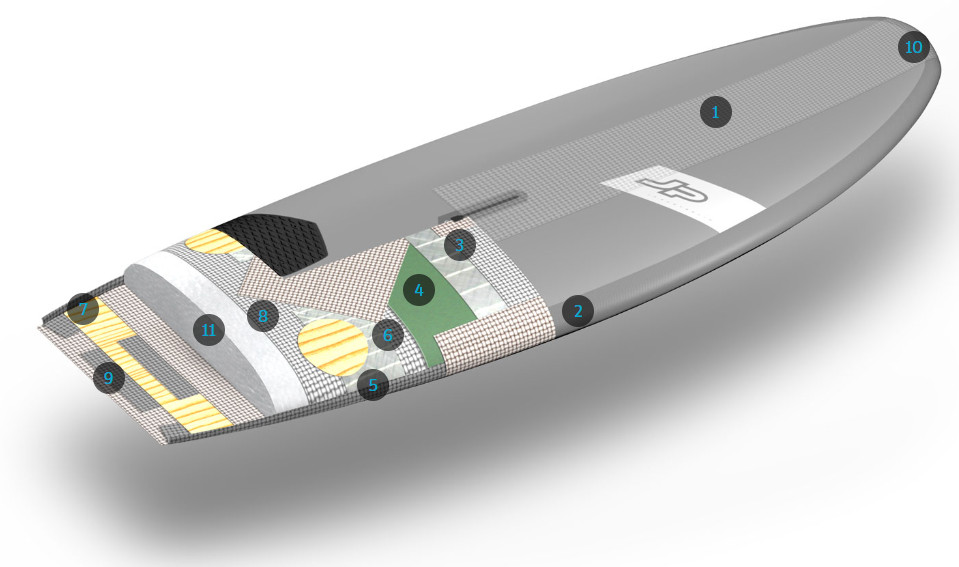 Technology
This technology features a blend between lightness and durability as well as the use of sustainable materials like the fast-growing Paulownia wood (7) for reinforcements in the bottom and a high-density PVC sandwich layer (4) reinforcement in the deck.
Technology details are the integrated Innegra nose reinforcement (1), bottom stringers (9), the Parabolic Rail band (2) and a Quadraxial fibre construction (3) in the full standing area.
LXTs come with the reinforced JP Foilbox and the windsurf boards (not foil boards) with a G-10 fin !
The deck of the Young Gun Freestyle features Paulownia wood instead of the PVC sandwich.